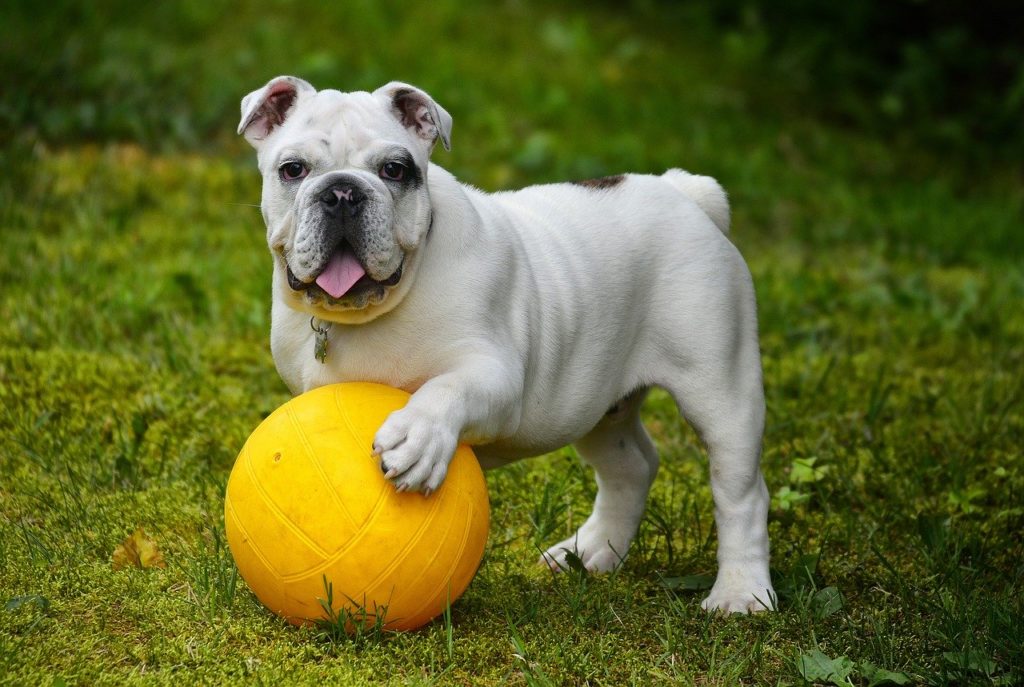 We want to make sure your best friend is taken care of entertained properly. Especially when you go to work a dog won't have much to do and that's why its important you get them some toys to keep them entertained. It's even more difficult if you live in a small apartment without a yard. That's why we think you should shower them with toys to keep them happy. We are about to cover the best apartment dog toys to keep your furry friend entertained for hours.
1. Indoor Ball Dog Toy
We love that you can play fetch indoors without the ball breaking any furniture. Better for smaller dogs and a bigger places. Also great to play outside too.
2. Dog Flirt Pole Toy
Outward Hound Tail Teaser Dog Flirt Pole Toy, Play Wand
This is a perfect indoor toy as you know how much space you will need with the wand. Your dog will love chasing the toy at the end. It will feel like hunting to them! Comes with 2 different toys for the end of the want. Has strong nylon cord to prevent breaking
3. Plush Hide and Seek
Outward Hound Interactive Puzzle Toy – Plush Hide and Seek Activity for Dogs
This is a great toy for your dog as it acts as a puzzle. Great to stimulate the mind of your dog especially if you aren't home. This toy has cute little squeak toys your dog will love!
Lot's of great reviews and it comes in different sizes for different sized dogs. A great toy to keep your dog engaged and challenged. Many reviews talk about the great mental exercise their dogs receive from this toy.
4. Treat dispensing Toy
StarMark Bob-A-Lot Interactive Dog Toy
Your dog loves treats why not use a toy that challenges them mentally and rewards them for that effort. Giving them a mental challenge is a great way to keep them entertained and use up their energy. Rewarding them for their hard work will make them come back and continue working through the puzzle. This is an easy and hands free method to make them work for their treats.
5. 3 Pack 9″ Squeaky Latex Dog Toy
Chiwava 3 Pack 9″ Squeaky Latex Dog Toys Standing Stick Animal Puppy Fetch Interactive Play
Comes with 3 different squeaky toys. Best for small to medium dogs. Made with Non-Toxic Latex Rubber . Reviews mention how dogs love to chew on this daily.
6. Dog Chew Toys for Aggressive Chewers
EETOYS Dog Chew Toys for Aggressive Chewers Lifetime Replacement Guarantee Nearly Indestructible Tough Durable Hard Dog Toy Non-Toxic Nylon Dog Bone Toy Reduces Boredom
Another great chew toy for aggressive chewers. This will keep your dog busy for hours. This comes with a LifeTime Replacement Guarantee. The chew toy has been tested by German Shepherds, Mastiffs, Pitbulls,Siberian huskies, Labrador, Golden retrievers and many other power chewers
7. Chewing Ropes
AMZpets Dog Toy Set for Large Dogs and Aggressive Chewers
Chewing ropes are essential for dog owners. Dog's love playing tug of war and it's perfect for an inside activity. This set comes with 7 different sets with different colors.
8. Beginner Dog Puzzle Toy
Nina Ottosson Dog Smart Beginner Dog Puzzle Toy – Engaging and Interactive Treat Dispensing Game for your Dog's Toy Box
Another great puzzle toy to exercise your dog's brain and give them treats for their hard work. Easy to clean and care for. The Dog Smart toy is a great way to slow down meal times to improve digestion and prevent bloat, as well as being a fun and entertaining dog enrichment toy.
9. Snuffle Mat for Dogs
SNiFFiz SmellyMatty Snuffle Mat for Dogs – Interactive Food IQ Toy Package (Large Nosework Blanket + 5 Treat Puzzle)
Meal Time now can be BONDING TIME – Repetition of Hide & Seek training helps you and your dog interact. A smell and sniff focused puzzle to find food and treats. Slows down meal time and eating. Better for digestion.
Safe and Durable Fabric(oxford, fleece); Non slip bottom; Anti Flip structure for large breed; Machine washable
10. 5 Different Function Interactive Dog Toys
Volacopets 5 Different Functions Interactive Dog Toys,Dog Puzzle Toys,IQ Treat Ball
A good variety pack. Includes a teeth cleaning ball. The dental cleaning ball will work as puppy toothbrush chew toy. Shove treats into the nubs or smear sugarless peanut butter or cheese into the grooves then pets will have more interests in it and enjoy to chew it (the nubs will clean teeth).
All toy balls are made of safe, non-toxic materials to ensure the safety and health of dogs
11. Giggle Ball
Wobble Wag Giggle Ball, Interactive Dog Toy, Fun Giggle Sounds When Rolled or Shaken, Pets Know Best, As Seen On TV
Up your ball game by getting an interactive ball that makes noises and keeps the attention of your dog. This interactive toy is meant to keep your dog entertained and active.
By engaging our dog's natural curiosity and instinct to play with giggling sounds when rolled or shaken. This toy keeps your pup active and entertained throughout the day providing great exercise for your best friend!
Apartment Dog Toys Conclusion
We know dogs can get bored at home so that's why we should keep them entertained. We suggest any toy that mentally challenges them to keep them busy. Walks are great, but when you aren't home they need to have something to chew on or keep them busy. That's why chew toys are so important and other toys that can give them treats when you aren't there.
Hopefully you have found some great toys for your dog. Now that you covered things to keep your dog entertained why not find things to keep yourself entertained and in shape. Check out our article about The 5 Best Home Small Exercise Equipment For Legs.